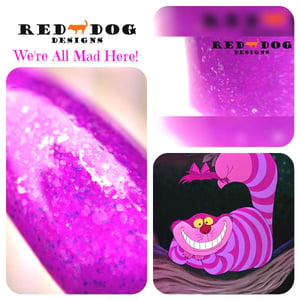 $

10.00
A special Limited Edition color for the 3rd Blogaversary of My Nail Polish Obsession!
Jen decided on an 'Alice in Wonderland' theme for her blogaversary this year - and I got to capture that sly creature - the cheshire cat! There are a total of 30 numbered bottles made of this fun color. Get one now!
We're All Mad Here! - Flakies galore! Micro rose pearl, snow white, micro turquoise, and micro magenta-blue shifting flakies - all in a lavender colored base.
Review/Swatches: